Common vision Disorders
Myopia (Nearsightedness)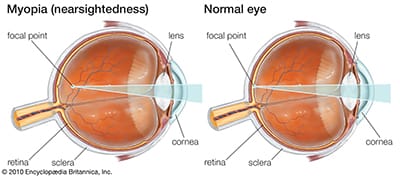 Nearsighted individuals typically have problems seeing well at a distance and are forced to wear glasses or contact lenses. The nearsighted eye is usually longer than a normal eye, and its cornea may also be steeper. Therefore, when light passes through the cornea and lens, it is focused in front of the retina. This will make distant images appear blurred. There are several refractive surgery solutions available to correct nearly all levels of nearsightedness. To learn more about what happens in our eye exams please visit our webpage on eye examinations.
Hyperopia (Farsightedness)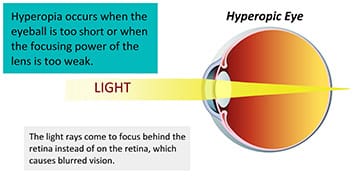 Farsighted individuals typically develop problems reading up close before the age of 40. The farsighted eye is usually slightly shorter than a normal eye and may have a flatter cornea. Thus, the light of distant objects focuses behind the retina unless the natural lens can compensate fully. Near objects require even greater focusing power to be seen clearly and therefore, blur more easily. LASIK, Refractive Lens Exchange and Contact lenses are a few of the options available to correct farsightedness.
Astigmatism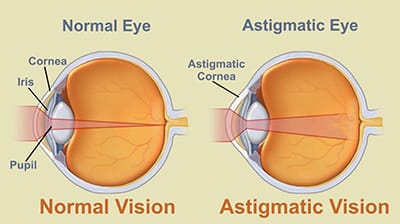 Astigmatism is a vision condition that causes blurred vision due either to the irregular shape of the cornea, the clear front cover of the eye, or sometimes the curvature of the lens inside the eye. An irregular shaped cornea or lens prevents light from focusing properly on the retina, the light sensitive surface at the back of the eye. As a result, vision becomes blurred at any distance.

Astigmatism is a very common vision condition. Most people have some degree of astigmatism. Slight amounts of astigmatism usually don't affect vision and don't require treatment. However, larger amounts cause distorted or blurred vision, eye discomfort and headaches.
Presbyopia

Presbyopia usually occurs beginning at around age 40, when people experience blurred near vision when reading, sewing or working at the computer.

You can't escape presbyopia, even if you've never had a vision problem before. Even people who are nearsighted will notice that their near vision blurs when they wear their usual eyeglasses or contact lenses to correct distance vision.
Presbyopia Symptoms and Signs

When people develop presbyopia, they find they need to hold books, magazines, newspapers, menus and other reading materials at arm's length in order to focus properly. When they perform near work, such as embroidery or handwriting, they may develop headaches, eye strain or feel fatigued.