About Dr. Davidi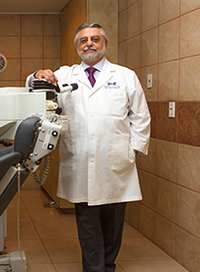 Faramarz Davidi MD
Ophthalmologist
Specializing in treatment and surgeries of the eyes such as Lasik, Lasek, glaucoma, cataract, diabetic eye diseases, cosmetic eyelid surgeries and cosmetic clinical procedures such as Botox, Dysport, Xeomine and all kinds of fillers.
– 1977 Residency training in Haddassah hospital, Hebrew University, Jerusalem
– Conducted several researches on Corneal physiology and optic nerve conduction
– 1990 Residency training in NYU.
Attended several courses in Laser Refractive Surgeries since 1994 ( one of the first physicians to perform LASIK and PRK surgeries in LA ) Currently publishing the latest research in treatment of Dry Eye Syndrome with Radio Frequency, (considered to be a breakthrough in this field ) Offices In Encino and Beverly Hills Main office in Encino is equipped with most advanced technology for Examination, diagnosis, treatment and surgeries of the eye disease.